XB-IMG-140015
Xenbase Image ID: 140015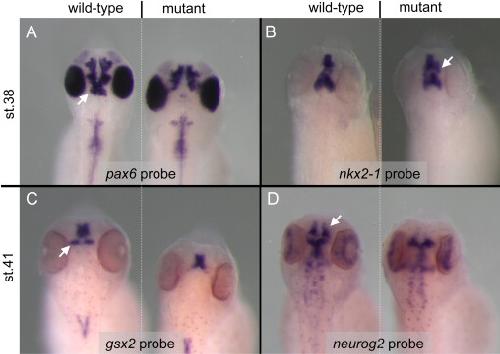 Fig. 7. pax6 mutants display altered forebrain patterning. In situ hybridization comparison of expression patterns of several genes show altered brain patterns in mutant versus wild-type embryos. pax6 mRNA expression is lost from the pretectum (white arrow) and ventral thalamus of mutants, but appears to be maintained normally in more anterior parts of the forebrain including retina at stage 38 (A). By contrast, as seen in panel (B) the expression domain of nkx2-1 appears to be expanded in the telecephalon (white arrow) of pax6 mutants compared to wild-type. gsx2 expression is lost from the prethalamus (C, white arrow) of the mutant, and neurog2 is greatly reduced in the telencephalon (D, white arrow) of mutant embryos.

Image published in: Nakayama T et al. (2015)

Copyright © 2015. Image reproduced on Xenbase with permission of the Publisher, Elsevier B. V.


Gene
Clone
Synonyms
Species
Stage(s)
Tissue
pax6
XLPAX6, xpax6, pax-6, an2, mgda, wagr, pax6-a, pax6-b
X.tropicalis
Throughout NF stage 37 and 38
eye
brain
lens
retina
spinal cord
diencephalon
optic chiasm
optic tract
forebrain

gsx2
gsh2
X.tropicalis
Throughout NF stage 41
brain
telencephalon
diencephalon
optic tract


Image source: Published

Larger Image
Printer Friendly View




comment [+]
Return to previous page