XB-IMG-147746
Xenbase Image ID: 147746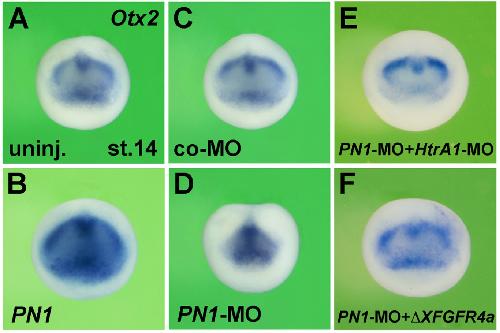 Figure S7. PN1 promotes anterior development via inhibition of HtrA1-, FGF- and Wnt signals Embryos were animally injected with MOs at the 2-cell stage and mRNAs at the 4-cell stage. (A) Anterior view of early neurula embryos after whole-mount in situ hybridization with Otx2, demarcating the prospective cement gland, forebrain and midbrain. (B) PN1 mRNA (4 ng) causes expansion of Otx2 expression. (C,D) PN1-MO (60 ng) reduces the Otx2 marker, while an equivalent amount of control-MO has no effect. (E,F) HtrA1-MO (20 ng) or 80 pg δXFGFR-4a mRNA restore normal Otx2 expression in PN1 morphant embryos. Indicated phenotypes were observed in B, 12/13; C, 59/62; D, 63/73; E, 22/24; F, 23/29.

Image published in: Acosta H et al. (2015)

Copyright © 2015. Image reproduced with permission of the publisher and the copyright holder. This is an Open Access article distributed under the terms of the Creative Commons Attribution License.


Gene
Synonyms
Species
Stage(s)
Tissue
otx2.S
Xotx2, otx-2, Xotx-2, otxA, otx2-a, otx2-b
X.laevis
Throughout NF stage 14
optic field
pre-chordal neural plate


Image source: Published

Larger Image
Printer Friendly View




comment [+]
Return to previous page