XB-IMG-149659
Xenbase Image ID: 149659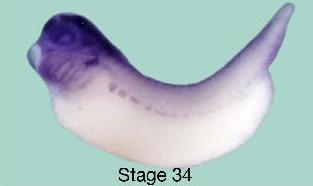 znf423 (zinc finger protein 423 ) gene expression in Xenopus laevis embryo, assayed via in situ hybridization, NF stage 33 & 34, lateral view, anterior left, dorsal up.

Image published in: Masserdotti G et al. (2010)

Copyright © 2010. Image reproduced with permission of the publisher and the copyright holder. This is an Open Access article distributed under the terms of the Creative Commons Attribution License.


Gene
Synonyms
Species
Stage(s)
Tissue
znf423.L
oaz, ebfaz, roaz, zfp423, zfp104
X.laevis
Throughout NF stage 33 and 34
head
pharyngeal arch
eye
brain
forebrain
midbrain
hindbrain
spinal cord
hypaxial muscle
lateral line placode


Image source: Published

Larger Image
Printer Friendly View




comment [+]
Return to previous page