XB-IMG-157826
Xenbase Image ID: 157826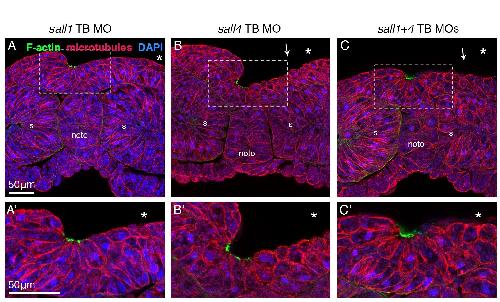 Supplementary Figure 7 – Apical actin accumulation is disrupted by translation-blocking morpholinos Confocal microscopy after transverse sectioning and staining of morphants; dorsal is up. Sections were taken from the anterior third of embryos, where primary neurulation is most easily observed. F-actin (phalloidin, green), microtubules (anti-DM1α antibody, red), nuclei (DAPI, blue). Asterisks in images indicate injected side; white arrows indicate loss of actin accumulation. A'-C' show higher magnification views of A-C. Scale bars = 50μm. s = somite, noto = notochord. Compare to Figure 3 F-I', splice-blocking morpholinos; see Figure 3 J for quantification of phenotypes in all sall morphants.

Image published in: Exner CRT et al. (2017)

Copyright © 2017. Image reproduced with permission of the Publisher, Elsevier B. V.


| Gene | Synonyms | Species | Stage(s) | Tissue |
| --- | --- | --- | --- | --- |
| actb.L | beta-actin, beta actin | X.laevis | Throughout NF stage 16 | neural plate |
| tuba4b.L | tuba4, alpha tubulin, alpha-tubulin, tuba4a | X.laevis | Throughout NF stage 16 | neural plate |

Image source: Published

Larger Image
Printer Friendly View




comment [+]
Return to previous page