XB-IMG-174703
Xenbase Image ID: 174703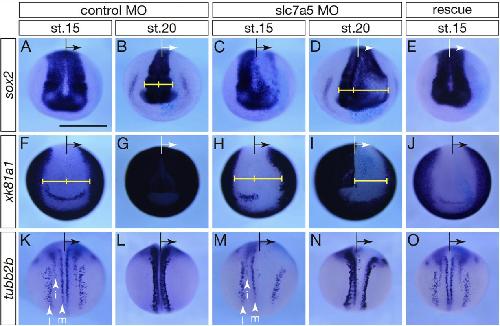 Fig. 7.Inhibition of slc7a5 led to the disorganization of neural- and non-neural patterning and primary neurogenesis.Neurula stage embryos (st.15 and st.20) were surveyed to analyze neural- and non-neural patterning in slc7a5-depleted embryos. Whole-mountin situhybridizationwas performed withsox2,xk81a1,tubb2b(N-tubulin) probes in embryos injected with control MO or slc7a5 MO. Black and white arrow represents the injected side.Yellow brackets indicate the width of the neural region in the embryo. (A–E)sox2expression. Anterior view. Broader expression domain was observed in slc7a5 MO-injected side. (F–J)xk81a1expression. Anterior view.xk81a1-negative domain was observed in the anterior part of slc7a5 MO-injected side even after st.20. (K–O)tubb2bexpression. Dorsal view. Motoneuron in medial region and interneuron in more lateral region were eliminated in slc7a5 MO-injected embryo. (E, J, O)Coinjection ofslc7a5.Sandslc7a5.LmRNA with slc7a5 MO rescued these phenotypes.β-GalactosidaseRNA (1 ng) was used as a tracer. Scale bars: 1 mm. l: lateralneurons (sensory neurons or Rohon-Beard neurons), i: intermediate neurons (interneurons), m: medial neurons (motoneurons). (For interpretation of the referencesto color in thisfigure legend, the reader is referred to the web version of this article.)

Image published in: Katada T and Sakurai H (2019)

Copyright © 2019. Image reproduced with permission of the Publisher, Elsevier B. V.


Gene
Synonyms
Species
Stage(s)
Tissue
sox2.S
XLSOX-2, Sox-2, XSox2, Xsox-2, anop3, mcops3
X.laevis
Throughout NF stage 15
neural plate

sox2.S
XLSOX-2, Sox-2, XSox2, Xsox-2, anop3, mcops3
X.laevis
Throughout NF stage 20
neural plate

krt12.4.L
epidermal keratin, epi-keratin, epiker, cytokeratin, Epidermis-specific keratin, xK81, EpK, cytok, E-keratin, ck81, K81, EpiK, xk81a1, xk81a
X.laevis
Throughout NF stage 15
epidermis

krt12.4.L
epidermal keratin, epi-keratin, epiker, cytokeratin, Epidermis-specific keratin, xK81, EpK, cytok, E-keratin, ck81, K81, EpiK, xk81a1, xk81a
X.laevis
Throughout NF stage 20
epidermis

tubb2b.L
n-tubulin, ntubulin, Xn-tubulin, N-Tub, neural beta-tubulin, NBT, NST
X.laevis
Throughout NF stage 15
neuron
interneuron

tubb2b.L
n-tubulin, ntubulin, Xn-tubulin, N-Tub, neural beta-tubulin, NBT, NST
X.laevis
Throughout NF stage 20
neuron
interneuron


Image source: Published

Larger Image
Printer Friendly View




comment [+]
Return to previous page