XB-IMG-2102
Xenbase Image ID: 2102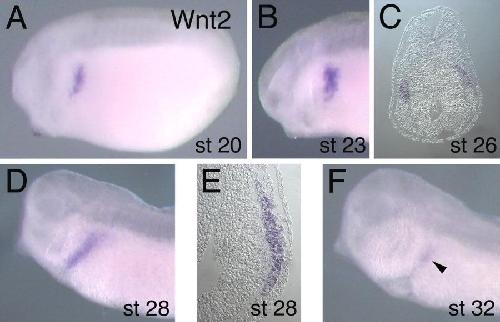 Figure 2. In situ hybridization analysis of Wnt2 expression during Xenopus embryonic development. A: Lateral view of stage 20 embryo showing Wnt2 expression in the lateral region just posterior to the head. B: Lateral view of stage 23 embryo showing increased extent of Wnt2 expression domain. C: Transverse section through Wnt2 expressing region of a stage 26 embryo showing expression restricted to deep mesoderm tissue adjacent to foregut endoderm. D: Lateral view of stage 28 embryo. The domain of Wnt2 expression is greatest at this stage and extends ventrally toward the heart forming region. E: Transverse section of stage 28 embryo showing Wnt2 expression restricted to mesoderm. F: Lateral view of stage 32 embryo. Residual Wnt2 expression is limited to a small region of the flank (arrowhead) posterior to the pharyngeal arches. Genbank accession number for Xenopus tropicalis Wnt2 is EF447424.

Image published in: Garriock RJ et al. (2007)

Copyright © 2007. Image reproduced with permission of the Publisher, John Wiley & Sons.


Gene
Synonyms
Species
Stage(s)
Tissue
wnt2
Xwnt2, Xwnt-2, wnt-2, irp, int1l1
X.tropicalis
Sometime during NF stage 20 to NF stage 23
lateral plate mesoderm
anterior

wnt2
Xwnt2, Xwnt-2, wnt-2, irp, int1l1
X.tropicalis
Sometime during NF stage 26 to NF stage 32
mesoderm
anterior
lateral plate mesoderm
splanchnic layer of lateral plate mesoderm


Image source: Published

Larger Image
Printer Friendly View




comment [+]
Return to previous page