XB-IMG-22756
Xenbase Image ID: 22756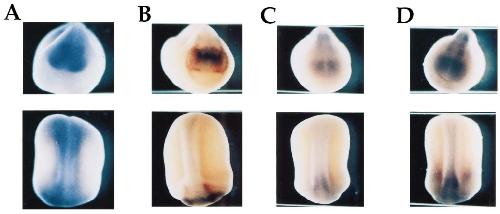 FIG. 3. Whole-mount in situ hybridization analysis of expression of XFGFR-1 (A), XFGFR-2 (B), XFGFR-3 (C), and XFGFR-4 (D) in stage 19 embryos. (Top panels) Anterior view; (bottom panels) dorsal view with the anterior downward.

Image published in: Hongo I et al. (1999)

Copyright © 1999. Image reproduced with permission of the Publisher, Elsevier B. V.


Gene
Synonyms
Species
Stage(s)
Tissue
fgfr1.L
X1FGFR, XFGFR-1, flt2, flt-2, xfgfr1, cek, flg, ogd, flt2, kal2, bfgfr, fgfr-1, fgfr1-a, fgfr1-b
X.laevis
Throughout NF stage 19
posterior
anterior neural fold
neural plate
eye primordium
optic vesicle
neural tube
diencephalon

fgfr4.L
FGF receptor 4, xfgfr4, XFGFR-4a, XFGFR-4, fgfr-4, fgfr4-a, fgfr4-b
X.laevis
Throughout NF stage 19
eye primordium
anterior neural fold
optic vesicle
anterior
neural tube
diencephalon

fgfr2.L
xfgfr2, fgfr-2
X.laevis
Throughout NF stage 19
eye primordium
anterior neural fold
optic vesicle
diencephalon

fgfr3.L
ach, cek2, jtk4, cd333, hsfgfr3ex, fgfr-3
X.laevis
Throughout NF stage 19
eye primordium
optic vesicle
diencephalon
anterior
neural tube


Image source: Published

Larger Image
Printer Friendly View




comment [+]
Return to previous page