XB-IMG-23573
Xenbase Image ID: 23573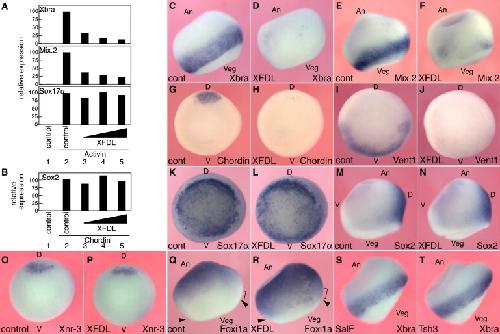 Figure 2. Specific Inhibition of Mesodermal Differentiation by XFDL(A) q-PCR analysis for Xbra (top), Mix.2 (middle), and Sox17α (bottom) expression. The four animal blastomeres at the 8-cell stage were injected with control mRNA (400 pg/cell; lanes 1 and 2) or 100 pg/cell (lane 3), 200 pg/cell (lane 4), or 400 pg/cell (lane 5) of XFDL mRNA. Animal caps (excised at stage 8.5) were then cultured without (lane 1) or with 5 ng/ml Activin (lanes 2–5) until siblings reached stage 11.(B) q-PCR analysis for Sox2 expression. Chordin (50 pg/cell; lanes 2–5) and increasing amounts of XFDL mRNAs were coinjected and analysis was performed as in (A).(C–R) In situ hybridization analysis of the embryos injected with XFDL mRNA. Control embryos (C, E, G, I, K, M, O, and Q) or embryos given XFDL mRNA (400 pg/cell) by injection at the 4-cell stage (D, F, H, J, L, N, P, and R) were harvested at stage 10.5 (C–L and O–R) or stage 11.5 (M and N) and analyzed by the indicated probes. Arrowheads, the dorsal and ventral blastopore lips; bracket, the marginal zone (see Xbra expression in panel C).(S and T) Embryos injected with SalF (400 pg/cell; S) or Tsh3 (400 pg/cell; T) were analyzed at stage 10.5 by in situ hybridization using the Xbra probe.

Image published in: Sasai N et al. (2008)

Copyright © 2008. Image reproduced with permission of the Publisher, Elsevier B. V.


Gene
Synonyms
Species
Stage(s)
Tissue
tbxt
Xbra, X-bra, bra, Xbrachyury, brachyury, ntl, t-a, t-b, t
Xenopus
Throughout NF stage 10.5
mesoderm
blastopore

sox2.L
XLSOX-2, Sox-2, XSox2, Xsox-2, anop3, mcops3
X.laevis
Throughout NF stage 11.5
ectoderm
dorsal marginal zone
neuroectoderm

mix1
mix.1, mix.2, mix2, tMix
Xenopus
Throughout NF stage 10.5
marginal zone
blastopore
endoderm

sox17a.L
xSox17alpha1, xSox17alpha2, tSox17alpha, Xsox17-alpha, Sox17alpha, sox17-alpha, xsox17a, xsox17, Xsox17alpha, sox17 alpha
X.laevis
Throughout NF stage 10.5
blastopore
endoderm

foxi1.L
Xema, ectodermally-expressed mesendoderm antagon, FoxI1e, xfoxi1, ema, foxi1e, foxi3
X.laevis
Throughout NF stage 10.5
ectoderm
animal cap
non-involuting marginal zone

ventx1.2.S
vent-1, Xvent-1, vent1, Xvent1
X.laevis
Throughout NF stage 10.5
animal cap
marginal zone
ventral marginal zone
ectoderm

nodal3.1.L
Xnr3, nr3, Xnr-3
X.laevis
Throughout NF stage 10.5
ectoderm
dorsal

sall2.L
salF, XsalF, XsalF-a, XsalF-b, Xsal2
X.laevis
Throughout NF stage 10.5
marginal zone


Image source: Published

Larger Image
Printer Friendly View




comment [+]
Return to previous page