XB-IMG-23750
Xenbase Image ID: 23750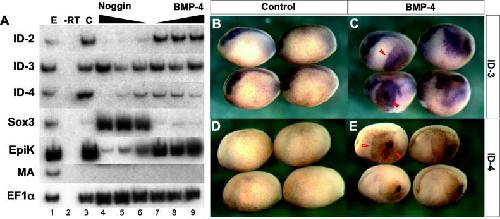 Fig. 5. The effect of BMP signaling on Id gene expression. (A) RT-PCR analysis on stage 20 ectodermal explants. E, whole embryo control; −RT, minus reverse transcriptase control; C, uninjected explant; Noggin doses: 37.5 pg, 25 pg, 12.5 pg; BMP4 doses: 125 pg, 250 pg, 374 pg. Injection of Noggin mRNA blocks expression of Id2 and Id4. Sox 3 expression is induced, indicating the presence of neural tissue, while epidermal keratin (EpiK) is also lost. BMP-4 injection does not increase the amount of Id2, Id3, or Id4 RNA in explants. (B–D) Lateral views of stage 15 embryos, anterior to left. (B, C) In situ hybrization for Id3. (D, E) In situ hybrization for Id4. (B) and (D) are uninjected controls. Overexpression of BMP-4 in the lateral ectoderm induces ectopic bottle cells (red arrowheads) which appears at the source of ectopic BMP (lineage tracing data not shown). (D) Ectopic Id4 RNA is present at a border of cells expressing BMP (open red arrowhead), rather than in the cells with the highest amount of injected BMP mRNA. (E) Id3 is expressed throughout the region surrounding the ectopic bottle cells but also stops abruptly, creating a sharp border.

Image published in: Liu KJ and Harland RM (2003)

Copyright © 2003. Image reproduced with permission of the Publisher, Elsevier B. V.


Gene
Synonyms
Species
Stage(s)
Tissue
id3.L
xid3, heir-1, xidia, xIdx, id3-a, id3-b
X.laevis
Throughout NF stage 15
neural plate
anterior neural fold
neural crest
neuroectoderm

id4.S
idb4, bhlhb27, id4-a, id4-b
X.laevis
Throughout NF stage 15
cement gland primordium


Image source: Published

Larger Image
Printer Friendly View




comment [+]
Return to previous page