XB-IMG-24300
Xenbase Image ID: 24300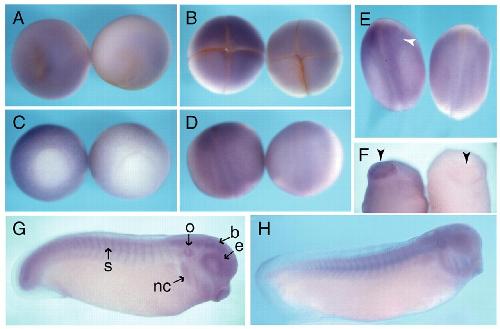 Fig. 8. XNF-ATc3 is expressed in neural tissue.Xenopus embryos analyzed for XNF-ATc3 expression by in situ hybridization: (A) One cell, (B) four cell, (C) stage 11.5, (D) stage 15, (E) stage 21, (F,G) stage 26 and (H) stage 28. Embryos hybridized with the antisense probe are shown on the left, sense control is shown on the right (A-F). Image perspective: (A,B) animal, (C) vegetal, (D,E) dorsal and (G,H) lateral views; (F) ventral view of the head. White arrowhead in E indicates the cranial neural crest; black arrowheads in F mark the cement glands. Abbreviations: b, brain; e, eye; nc, neural crest; o, otic vesicle; s, somites.

Image published in: Borchers A et al. (2006)

Copyright © 2006. Image reproduced with permission of the publisher and the copyright holder. This is an Open Access article distributed under the terms of the Creative Commons Attribution License.


Gene
Synonyms
Species
Stage(s)
Tissue
nfatc3.S
nf-at, nfat4, nfatx
X.laevis
Throughout NF stage 26
somite
brain
eye
neural crest
otic placode
cement gland primordium
forebrain
hindbrain
midbrain
tail region

nfatc3.S
nf-at, nfat4, nfatx
X.laevis
Throughout NF stage 1
animal hemisphere

nfatc3.S
nf-at, nfat4, nfatx
X.laevis
Throughout NF stage 3 (4-cell)
animal hemisphere

nfatc3.S
nf-at, nfat4, nfatx
X.laevis
Throughout NF stage 11.5
ectoderm
neuroectoderm

nfatc3.S
nf-at, nfat4, nfatx
X.laevis
Throughout NF stage 15
neural plate
neural tube

nfatc3.S
nf-at, nfat4, nfatx
X.laevis
Throughout NF stage 21
neural plate
cranial neural crest
neural tube

nfatc3.S
nf-at, nfat4, nfatx
X.laevis
Throughout NF stage 28
somite
eye
otic vesicle
cement gland
neural crest
brain
forebrain
hindbrain
midbrain


Image source: Published

Larger Image
Printer Friendly View




comment [+]
Return to previous page