XB-IMG-37774
Xenbase Image ID: 37774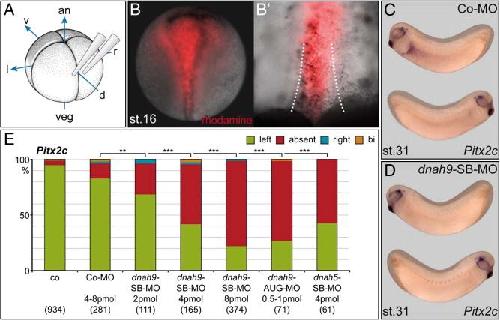 Fig. 4. No induction of Pitx2c in dnah9 and dnah5 morphants. Injection into the marginal region of left and right dorsal blastomeres (A) specifically targets the floor plate (B; external view) and GRP (B'; ventral view of dorsal explant). (C–E) Laterality defects in morphants. Wildtype left-asymmetric expression of Pitx2c in Co-MO-injected specimen (C) and absence of lateral plate expression in dnah9-MO-injected tadpole (D). (E) Quantification of results. Note that bilateral and right-asymmetric expression patterns were very rarely encountered, while absence of Nodal cascade induction was found in up to 75% of cases. Please note that all three MOs resulted in similar effects as well as dose-dependency of dnah9-SB-MO. an, animal; d, dorsal; l, left; r, right; v, ventral; veg, vegetal.

Image published in: Vick P et al. (2009)

Copyright © 2009. Image reproduced with permission of the Publisher, Elsevier B. V.


Gene
Synonyms
Species
Stage(s)
Tissue
pitx2.L
pitx2-A, xPtx2, xpitx2, pitx2c, pitx2-a, pitx2-b
X.laevis
Throughout NF stage 31
trigeminal ganglion
profundus ganglion
cement gland

pitx2.L
pitx2-A, xPtx2, xpitx2, pitx2c, pitx2-a, pitx2-b
X.laevis
Throughout NF stage 31
lateral plate mesoderm
left


Image source: Published

Larger Image
Printer Friendly View




comment [+]
Return to previous page