XB-IMG-41799
Xenbase Image ID: 41799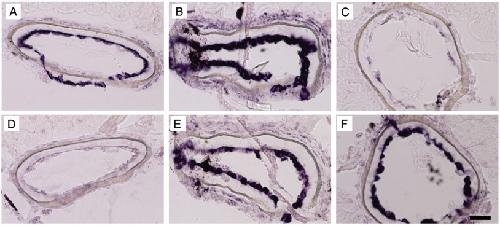 Fig. 1. Reprogramming of fibroblasts in the tail notochord. TH induces a change in gene expression in the tail that causes regression of the tail. In situ hybridization of adjacent sections with (A–C) collagen and (D–F) collagenase-3. (A, D) NF55 control; (B, E) 10 nM T3 for 2 days; (C, F) 10 nM T3 for 4 days. (scale bar = 40 μm).

Image published in: Mukhi S et al. (2010)

Copyright © 2010. Image reproduced with permission of the Publisher, Elsevier B. V.


Gene
Synonyms
Species
Stage(s)
Tissue
mmp13l.S
X.laevis
Throughout NF stage 55
fibroblast
notochordal sheath

col11a1.L
X.laevis
Throughout tadpole stage to NF stage 65
fibroblast
notochordal sheath


Image source: Published

Larger Image
Printer Friendly View




comment [+]
Return to previous page