XB-IMG-46458
Xenbase Image ID: 46458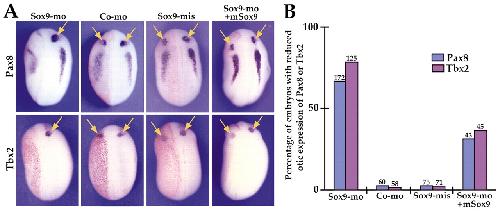 Fig. 3. Sox9 depletion prevents formation of the otic placode. (A) At stage 22, Pax8 and Tbx2 expression is eliminated upon injection of 10 ng of Sox9-mo in one blastomere at the two-cell stage (left side). For comparison, the otic expression of Pax8 and Tbx2 is unaffected (arrows) in embryos injected with 10 ng of Co-mo or Sox9-mis oligos. Sox9-mo phenotype can be rescued by injection of 2 ng of mouse Sox9 mRNA (Sox9-mo+mSox9). RNA encoding the lineage tracerβ -galactosidase was coinjected with the morpholino oligo to identify the injected side (red staining, left side in all panels). (B) Quantification of Tbx2 and Pax8 in situ hybridization results. The numbers at the top of each bar indicate the number of cases analyzed.

Image published in: Saint-Germain N et al. (2004)

Copyright © 2004. Image reproduced with permission of the publisher and the copyright holder. This is an Open Access article distributed under the terms of the Creative Commons Attribution License.


| Gene | Synonyms | Species | Stage(s) | Tissue |
| --- | --- | --- | --- | --- |
| pax8 | XPax8, XPax-8, pax-8 | Xenopus | Throughout NF stage 22 | otic placode |
| tbx2 | Xltbx2, xtbx2, ET, tbx2-a, tbx2-b | Xenopus | Throughout NF stage 22 | otic placode |

Image source: Published

Larger Image
Printer Friendly View




comment [+]
Return to previous page