XB-IMG-46513
Xenbase Image ID: 46513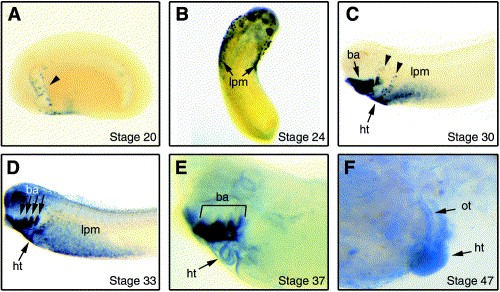 Fig. 3. dHAND expression in staged Xenopus embryos. Whole-mount in situ hybridization in Xenopus embryos revealed dHAND expression in punctate subepidermal cells (arrowheads) as early as stage 20 (A). The punctate cells later appeared to be migrating to the branchial arches and heart (C). dHAND expression was observed in the branchial arches throughout their development (C–E). dHAND was expressed bilaterally in the lateral plate mesoderm (lpm) at stage 24 through stage 33 (B–D). High magnification of the anterior embryo better demonstrated expression in the looped heart tube and branchial arches at stage 37 (E). Even higher magnification of the cardiac region (F) demonstrated expression in the heart tube (ht) and outflow tract (ot) at stage 47 without any chamber restriction.

Image published in: Angelo S et al. (2000)

Copyright © 2000. Image reproduced with permission of the Publisher, Elsevier B. V.


Gene
Synonyms
Species
Stage(s)
Tissue
hand2.L
dhand, dhand2, xhand2, hand2-a, hand2-b
X.laevis
Throughout NF stage 20
epidermis
neural crest
lateral plate mesoderm
cranial neural crest
mandibular crest
hyoid crest
branchial crest
cardiac progenitor cell
neuroectoderm

hand2.L
dhand, dhand2, xhand2, hand2-a, hand2-b
X.laevis
Throughout NF stage 24
branchial arch
heart primordium
neural crest
mesoderm
lateral plate mesoderm
pharyngeal arch
mandibular arch
hyoid arch

hand2.L
dhand, dhand2, xhand2, hand2-a, hand2-b
X.laevis
Throughout NF stage 29 and 30
branchial arch
mesoderm
heart
lateral plate mesoderm
heart primordium
pharyngeal arch
mandibular arch
hyoid arch
ectoderm

hand2.L
dhand, dhand2, xhand2, hand2-a, hand2-b
X.laevis
Throughout NF stage 33 and 34
lateral plate mesoderm
mesoderm
heart
heart primordium
eye
pharyngeal arch
mandibular arch
hyoid arch
branchial arch
ventral blood island
ventral

hand2.L
dhand, dhand2, xhand2, hand2-a, hand2-b
X.laevis
Throughout NF stage 37 and 38
heart
branchial arch
cardiac mesoderm
lateral plate mesoderm
pharyngeal arch
mandibular arch
hyoid arch
cardiac ventricle
endocardial tube

hand2.L
dhand, dhand2, xhand2, hand2-a, hand2-b
X.laevis
Throughout NF stage 47
heart
cardiac mesoderm
internal carotid artery
external carotid artery
cardiac ventricle


Image source: Published

Larger Image
Printer Friendly View




comment [+]
Return to previous page