XB-IMG-47542
Xenbase Image ID: 47542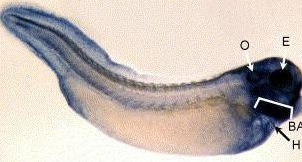 id2 (inhibitor of DNA binding 2) in Xenopus laevis embryo, assayed via in situ hybridization, NF stage 37 & 38, lateral view, anterior right, dorsal up.

This image is extracted from figure published in: Martinsen BJ et al. (2004)

Copyright © 2004. Image reproduced with permission of the Publisher, Elsevier B. V.


Gene
Synonyms
Species
Stage(s)
Tissue
id2.L
xid2
X.laevis
Sometime during NF stage 37 and 38 to NF stage 45
eye
heart
otic vesicle
branchial arch
neural tube
pharynx
nerve
ganglion
splanchnic layer of lateral plate mesoderm
outflow tract


Image source: Published

Larger Image
Printer Friendly View




comment [+]
Return to previous page