XB-IMG-48669
Xenbase Image ID: 48669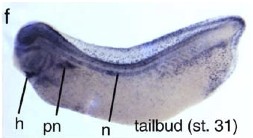 adamts1 expression in Xenopus laevis, stage 31 embryo, laterla view, anterior left. Source: Suga A, Hikasa H, Taira M., Dev Biol. July 1, 2006; 295 (1): 26-39 Pubmed Id: 16690049

Image published in: Suga A et al. (2006)

Copyright © 2006. Image reproduced with permission of the Publisher, Elsevier B. V.


Gene
Synonyms
Species
Stage(s)
Tissue
adamts1.L
xadamts1
X.laevis
Throughout NF stage 31
pronephric kidney
heart primordium
dermatome
neural tube
posterior neural tube
anterior neural tube
brain
hindbrain
optic vesicle
olfactory placode
head region
branchial arch
fin
dorsal tail fin
tail
rectal diverticulum


Image source: Published

Larger Image
Printer Friendly View




comment [+]
Return to previous page