XB-IMG-48753
Xenbase Image ID: 48753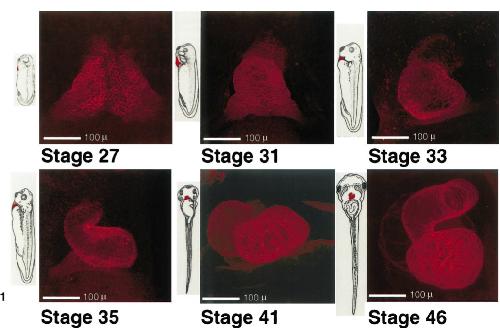 FIG. 1. Cardiac muscle development in Xenopus. Confocal images of the heart regions of six stages of embryos (27-46) are presented (ventral views), each adjacent to a diagrammatic representation of an embryo (Nieuwkoop and Faber, 1967) at the corresponding stage. Prior to microscopy, stage 27-33 embryos were immunolabeled with anti-tropomyosin (CH1) and stages 356 with anti-cardiac troponin T (CT3). The secondary antibody used for all stages was conjugated to Cy5. Each confocal image represents a digitally colored compilation of 30-53 optical sections taken (in gray scale) 5 um apart. All confocal images were taken at the same magnification and are presented with the anterior of the embryo at the top. Scale bar, 100 um

Image published in: Kolker SJ et al. (2000)

Copyright © 2000. Image reproduced on Xenbase with permission of the Publisher, Elsevier B. V.


Gene
Clone
Synonyms
Species
Stage(s)
Tissue
tpm1.L
alpha-tm, alpha-tropomyosin, CH1
X.laevis
Throughout NF stage 27
fused heart primordium

tpm1.L
alpha-tm, alpha-tropomyosin, CH1
X.laevis
Throughout NF stage 31 to NF stage 33 and 34
cardiovascular system
fused heart primordium
myocardium

tnnt2.L
CT3
X.laevis
Throughout NF stage 35 and 36 to NF stage 41
cardiovascular system
heart
myocardium

tnnt2.L
CT3
X.laevis
Throughout NF stage 46
cardiovascular system
heart
myocardium
left atrium
right atrium


Image source: Published

Larger Image
Printer Friendly View




comment [+]
Return to previous page