XB-IMG-48756
Xenbase Image ID: 48756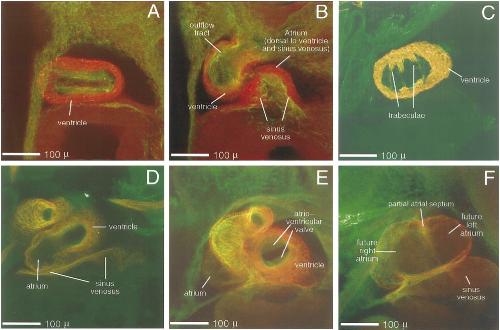 FIG. 4. Milestones of early cardiac development in Xenopus (continued). Embryos were double labeled with anti-cardiac troponin T (CT3) (red) and anti-fibrillin (JB3) (green) and optically sectioned. For each stage, the set of optical sections (35 to 53 sections 5 to 7 um thick) was digitally compiled in increments of 6 to 9 sections. Resulting ventral views of optical thick sections are presented. By stage 35 (A and B) the myocardial wall is closed and the heart tube has become twisted in a S shape; the chambers are now distinct. Stage 41 (C and D) The myocardium thickens and develops trabeculae; the atrium is posterior to the ventricle. At stage 44 (E and F) the single atrium begins to be partitioned by the forming septum and is pushed slightly anterior to the ventricle. Scale bar, 100um.

Image published in: Kolker SJ et al. (2000)

Copyright © 2000. Image reproduced on Xenbase with permission of the Publisher, Elsevier B. V.


Gene
Clone
Synonyms
Species
Stage(s)
Tissue
tnnt2.L
CT3
X.laevis
Throughout NF stage 35 and 36
heart
muscle
myocardium
cardiac ventricle

tnnt2.L
CT3
X.laevis
Throughout NF stage 41
heart
muscle
myocardium
cardiac ventricle
left atrium
right atrium

tnnt2.L
CT3
X.laevis
Throughout NF stage 44
heart
muscle
myocardium
cardiac ventricle
left atrium
right atrium

fbn2.L
JB3
X.laevis
Throughout NF stage 35 and 36
heart
cardiac ventricle
epicardium
left atrium
right atrium
endocardium
outflow tract
ventricular outflow tract

fbn2.L
JB3
X.laevis
Throughout NF stage 41
heart
cardiac ventricle
left atrium
right atrium

fbn2.L
JB3
X.laevis
Throughout NF stage 44
heart
cardiac ventricle
epicardium
left atrium
right atrium
atrioventricular valve leaflet
endocardium


Image source: Published

Larger Image
Printer Friendly View




comment [+]
Return to previous page