XB-IMG-74770
Xenbase Image ID: 74770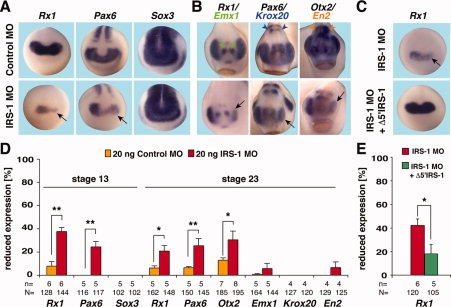 Figure 6. Marker gene analyses of Insulin receptor substrate IRS-1-depleted embryos. A: IRS-1 knock down in neural tissue reduces the expression of the eye marker genes Rx1 and Pax6, but not the pan-neural marker gene Sox3 at stage 13. B: At stage 23, expression of Rx1, Pax6, and Otx2 in the eye is affected. In contrast, expression of Emx1, Krox20, and En2 in the brain is not affected. C: Coinjection of 0.5 ng of δ5′ untranslated region (UTR) IRS-1 RNA significantly reverted the IRS-1 morpholino oligonucleotide (MO) (20 ng) -induced reduction of Rx1 expression at stage 13. D,E: Quantitative representations are given. *P < 0.05, **P < 0.005, n, number of independent experiments; N, total number of embryos examined.Download figure to PowerPoint

Image published in: Bugner V et al. (2011)

Copyright © 2011. Image reproduced with permission of the Publisher, John Wiley & Sons.


Gene
Synonyms
Species
Stage(s)
Tissue
rax.S
rx1, Xrx1, Xrax, Rx2A, rx, rx1a, rax-a, rax1, Xrx1A, rax-b, rx-1
X.laevis
Throughout NF stage 13
optic field
pre-chordal neural plate

rax.S
rx1, Xrx1, Xrax, Rx2A, rx, rx1a, rax-a, rax1, Xrx1A, rax-b, rx-1
X.laevis
Throughout NF stage 23
eye
retina

emx1l.S
XEmx1
X.laevis
Throughout NF stage 23
forebrain
telencephalon

pax6.L
XLPAX6, xpax6, pax-6, an2, mgda, wagr, pax6-a, pax6-b
X.laevis
Throughout NF stage 13
lens placode
spinal cord
pre-chordal neural plate
optic field

pax6.L
XLPAX6, xpax6, pax-6, an2, mgda, wagr, pax6-a, pax6-b
X.laevis
Throughout NF stage 23
lens placode
eye
forebrain
brain
retina

egr2.L
XKr20, EGR-2, Krox-20, XKrox-20, krox20
X.laevis
Throughout NF stage 23
rhombomere
rhombomere R3
rhombomere R5

sox3.S
xSox3, Sry, Xtsox3, Xlsox3
X.laevis
Throughout NF stage 13
lens placode
neural plate
pre-chordal neural plate
chordal neural plate

otx2.S
Xotx2, otx-2, Xotx-2, otxA, otx2-a, otx2-b
X.laevis
Throughout NF stage 23
eye
brain
forebrain
midbrain


Image source: Published

Larger Image
Printer Friendly View




comment [+]
Return to previous page