XB-IMG-75094
Xenbase Image ID: 75094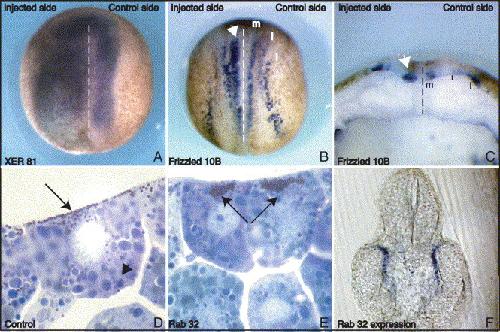 Fig. 5. Additional detail on the overexpression of 4 selected genes and Rab32 expression. (a) XER 81 RNA injections expand X-Sox3 (purple) on the injected side. (b+c) Frizzled10B RNA injections enhance the medial (motorneuron) stripe of N-tubulin expression (white arrowhead, in wholemount (B) and transverse (C) view), in addition to the ectopic expression of N-tubulin observed in the floorplate (shown in Fig. 4b). (dashed line-midline, l-lateral, i-intermediate, m-medial). (d+e) 1 μm sections of Rab32 (1 ng) injected (E) and control Xenopus laevis (D) embryos. (D) In wild type embryos the melanosomes (darkly pigmented vesicles, arrow) are localised predominantly under the apical surface, but some can be found deeper within the cells (arrowhead). In contrast, when Rab32 was overexpressed the melanosomes were clustered tightly together and localised under the apical surface (arrows). (f) Transverse section (30 μm) of a bleached Xenopus tropicalis tailbud embryo in situ hybridised with an antisense probe to Rab32. Rab 32 is expressed in the retinal pigment epithelium (purple).

Image published in: Voigt J et al. (2005)

Copyright © 2005. Image reproduced with permission of the Publisher, Elsevier B. V.


Gene
Synonyms
Species
Stage(s)
Tissue
sox3
xSox3, Sry, Xtsox3, Xlsox3
X.tropicalis
Throughout NF stage 17
neural plate

tubb2b
n-tubulin, ntubulin, Xn-tubulin, N-Tub, neural beta-tubulin, NBT, NST
X.tropicalis
Throughout NF stage 17
neuron
Rohon-Beard neuron

rab32
X.tropicalis
Throughout NF stage 26
eye
retinal pigmented epithelium


Image source: Published

Larger Image
Printer Friendly View




comment [+]
Return to previous page