XB-IMG-75753
Xenbase Image ID: 75753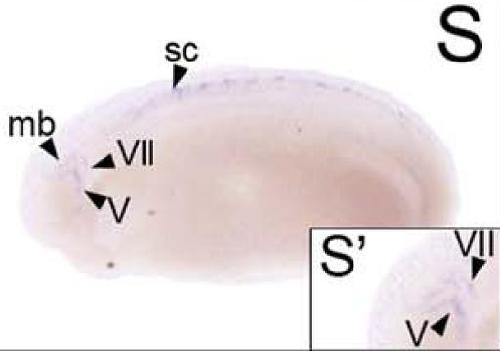 gabbr2[GABA B receptor 2] gene expression in Xenopus laevis embryo via in situ hybridization, NF stage (24-26), lateral view, anterior left, dorsal up. Image copyrighted by: Wiley-Liss Inc and reproduced from Kaeser et al., XB-ART-42885

Image published in: Kaeser GE et al. (2011)

Copyright © 2011. Image reproduced with permission of the Publisher, John Wiley & Sons.


Gene
Synonyms
Species
Stage(s)
Tissue
gabbr2.S
GABA(B)R2
X.laevis
Throughout NF stage 24 to NF stage 26
midbrain
spinal cord
trigeminal nerve
facial nerve


Image source: Published

Larger Image
Printer Friendly View




comment [+]
Return to previous page