XB-IMG-77851
Xenbase Image ID: 77851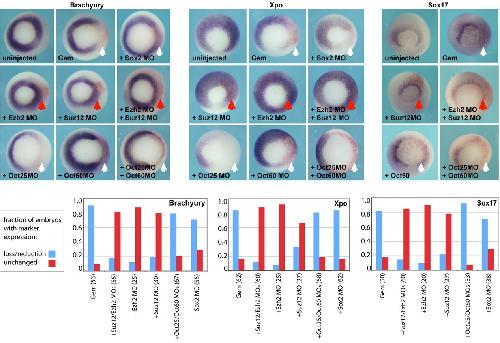 Fig. 6. Geminin suppression of mesoderm and endoderm depends on Polycomb but is independent of Oct25/60 and Sox2 activities. Geminin RNA (120 pg) with or without 8 ng of MOs (16 ng Oct60MO) + 30 pg β-galactosidase RNA was injected into one cell of eight-cell embryos, with in situ hybridization at stage 11.5. Red-gal staining and white or red arrowheads mark injected regions. Below are additive results for four experiments shown as fractions of embryos with indicated effects (embryo numbers analyzed are in parentheses).

Image published in: Lim JW et al. (2011)

Copyright © 2011. Image reproduced with permission of the publisher and the copyright holder. This is an Open Access article distributed under the terms of the Creative Commons Attribution License.


Gene
Synonyms
Species
Stage(s)
Tissue
tbxt.S
Xbra, X-bra, bra, Xbrachyury, brachyury, ntl, t-a, t-b, t
X.laevis
Throughout NF stage 11.5
blastopore lip
involuting marginal zone

post.L
Xpo, loc108704914
X.laevis
Throughout NF stage 11.5
marginal zone
ventro-lateral marginal zone
dorso-lateral marginal zone
dorsal marginal zone
blastopore lip

sox17a.L
xSox17alpha1, xSox17alpha2, tSox17alpha, Xsox17-alpha, Sox17alpha, sox17-alpha, xsox17a, xsox17, Xsox17alpha, sox17 alpha
X.laevis
Throughout NF stage 11.5
ventro-lateral marginal zone
dorso-lateral marginal zone
dorsal marginal zone
upper blastopore lip


Image source: Published

Larger Image
Printer Friendly View




comment [+]
Return to previous page