XB-IMG-79597
Xenbase Image ID: 79597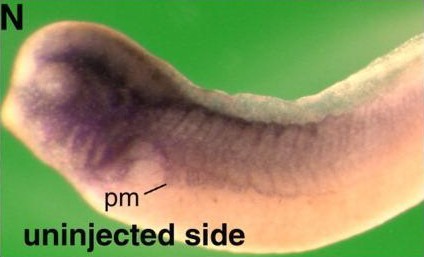 vim (vimentin) gene expression in Xenopus laevis embryos, NF stage 34, as assayed by in situ hybridization. Lateral view: anterior left, dorsal up. Image extracted from XB-IMG-25099

Image published in: Hanel ML et al. (2009)

Copyright © 2009. Image reproduced on Xenbase with permission of the Publisher, John Wiley & Sons.


Gene
Clone
Synonyms
Species
Stage(s)
Tissue
vim.L
vimentin, vim-a, vim-b
X.laevis
Throughout NF stage 33 and 34
spinal cord
intersomitic neuron
head region
pharyngeal arch
mandibular arch
hyoid arch
branchial arch
hindbrain
ventricular zone


Image source: Published

Larger Image
Printer Friendly View




comment [+]
Return to previous page