XB-IMG-79701
Xenbase Image ID: 79701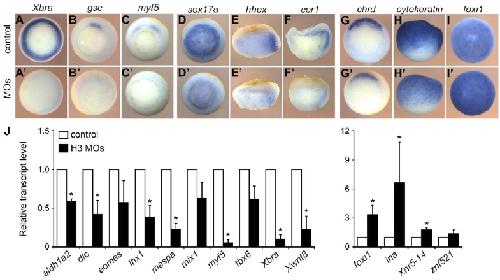 Fig. 2. H3.3/H3-depleted Xenopus embryos fail to express mesodermal marker genes. (A-I′) Control and injected embryos fixed at early gastrula were subjected to RNA in situ hybridization for the analysis of mesodermal (A-C′), endodermal (D-F′) and ectodermal (G-I′) marker gene expression. Representative embryos from three experiments are shown. (A-D,G) Vegetal views; (E,F) lateral views of bisected embryos, dorsal towards the right; (H) lateral view; (I) animal view. (J) Expression of selected genes in control and H3 MO-injected embryos at stage 10.5 was measured by qRT-PCR. All values were normalized to ornithine decarboxylase (ODC) and plotted relative to the respective transcript levels in control embryos. Error bars indicate s.d. of three independent experiments. *P<0.05 using a two-tailed Student t-test.

Image published in: Lim CY et al. (2013)

Copyright © 2013. Image reproduced with permission of the publisher and the copyright holder. This is an Open Access article distributed under the terms of the Creative Commons Attribution License.


Gene
Synonyms
Species
Stage(s)
Tissue
tbxt.S
Xbra, X-bra, bra, Xbrachyury, brachyury, ntl, t-a, t-b, t
X.laevis
Throughout NF stage 10
mesoderm
dorsal marginal zone

gsc.L
Xgsc, goosecoid, gsc-a, gsc-b
X.laevis
Throughout NF stage 10
mesoderm
dorsal marginal zone

myf5.L
Xmyf5, Xmyf-5, myf-5
X.laevis
Throughout NF stage 10
mesoderm
marginal zone
dorso-lateral marginal zone

sox17a.L
xSox17alpha1, xSox17alpha2, tSox17alpha, Xsox17-alpha, Sox17alpha, sox17-alpha, xsox17a, xsox17, Xsox17alpha, sox17 alpha
X.laevis
Throughout NF stage 10
endoderm
vegetal endoderm
blastopore

hhex.L
XHex, tHex, hex
X.laevis
Throughout NF stage 10
endoderm
endomesoderm

cer1.S
xcer, xcer-1, xcer1, cer, Cerberus, tCerberus, cer-1, dand4
X.laevis
Throughout NF stage 10
endomesoderm
endoderm

chrd.1.S
chd, chordin, X-chordin, chrd, loc108716939
X.laevis
Throughout NF stage 10
dorsal marginal zone
ectoderm

krt12.4.L
epidermal keratin, epi-keratin, epiker, cytokeratin, Epidermis-specific keratin, xK81, EpK, cytok, E-keratin, ck81, K81, EpiK, xk81a1, xk81a
X.laevis
Throughout NF stage 10
ectoderm
epidermis
animal hemisphere

foxi1.L
Xema, ectodermally-expressed mesendoderm antagonist, FoxI1e, xfoxi1, ema, foxi1e, foxi3
X.laevis
Throughout NF stage 10
epidermis
animal hemisphere
ectoderm


Image source: Published

Larger Image
Printer Friendly View




comment [+]
Return to previous page