XB-IMG-82056
Xenbase Image ID: 82056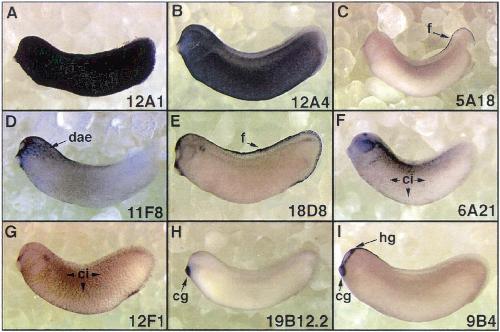 Fig. 6. Epidermal regionalization. Whole-mount in situ hybridizations of tailbud embryos are shown in lateral view. (A,B) Show pan-epidermal markers and (C) show genes with expression in various epidermal regions. cg, Cement gland; ci, ciliated cells; dae, dorsoanterior epidermis; f, fin; hg, hatching gland.

Image published in: Gawantka V et al. (1998)

Copyright © 1998. Image reproduced with permission of the Publisher, Elsevier B. V.


Gene
Synonyms
Species
Stage(s)
Tissue
gale.L
xgale
X.laevis
Throughout NF stage 29 and 30
cement gland

armc4.S
X.laevis
Throughout NF stage 29 and 30
ciliated epidermal cell

msx2.L
Hhox 7.1
X.laevis
Throughout NF stage 29 and 30
anxa5.L
annexin A5, anx5, enx2
X.laevis
Throughout NF stage 29 and 30
cement gland
hatching gland

atp6v0c.L
atpl, vatl, vma3, atp6c, atp6l, ductin, xduct
X.laevis
Throughout NF stage 29 and 30
ciliated epidermal cell

upk3a.L
uroplakin III, up3a, upk3, upiii, upiiia, xUPIII
X.laevis
Throughout NF stage 29 and 30
fin

krt12.4.S
epidermal keratin, epi-keratin, epiker, cytokeratin, Epidermis-specific keratin, xK81, EpK, cytok, E-keratin, ck81, K81, EpiK, xk81a1, xk81a
X.laevis
Throughout NF stage 29 and 30
epidermis


Image source: Published

Larger Image
Printer Friendly View




comment [+]
Return to previous page