XB-IMG-82876
Xenbase Image ID: 82876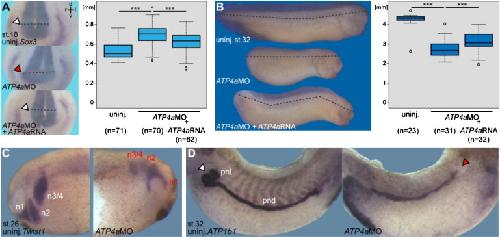 Figure S3. ATP4a Acts on Noncanonical Wnt Signaling, Related to Figure 4(A and B) Convergent extension. (A) Neural tube closure: widening of the neural tube in ATP4a morphants. Embryos were injected unilaterally into the animal right blastomeres at the 4 cell stage, fixed and processed for Sox3 expression to visualize the neural plate by WMISH at stage 18. Staging was according to the progress of neural tube closure on the uninjected (left) side. Note that the widening of the neural plate was partially rescued upon ATP4a co-injection. (B) Shortening of the anterior-posterior (AP) axis. Embryos were bilaterally injected into the DMZ at the 4 cell stage and the AP extension was determined at stage 32. Note that MO-induced shortening was partially rescued by ATP4a co-injection. The width of the neural plate (A) and the length of embryos (B) were measured (as indicated by dashed lines). Results are depicted as box plots.(C) Neural crest cell specification and migration: right-sided ATP4aMO-injection resulted in reduced and altered Twist1 mRNA expression at stage 26 (n1-n3/4; neural crest migratory streams).(D) Right-sided pronephric tubule (pnt) defects upon unilaterally right-sided ATP4aMO-injection, as demonstrated by WMISH using the pronephros marker gene ATP1b1. d, dorsal; l, left; pnd, pronephric duct; pnt, pronephric tubule; r, right; v, ventral. ∗∗∗, very highly significant. Numbers in brackets represent number of analyzed specimens.

Image published in: Walentek P et al. (2012)

Copyright © 2012. Image reproduced with permission of the publisher and the copyright holder. This is an Open Access article distributed under the terms of the Creative Commons Attribution License.


Gene
Synonyms
Species
Stage(s)
Tissue
sox3.S
xSox3, Sry, Xtsox3, Xlsox3
X.laevis
Throughout NF stage 18
neural tube
chordal neural plate
pre-chordal neural plate
neural plate
anterior neural fold
neural fold

twist1.L
Xtwi, X-twi, twist, Xtwist, twist1-b, twist1-a, twist
X.laevis
Throughout NF stage 26
cranial neural crest
migratory neural crest cell

atp1b1.S
Na+-K+-ATPase, atp1b1a, Beta1-Na/K-ATPase
X.laevis
Throughout NF stage 32
pronephric nephron
pronephric kidney
pronephric tubule
pronephric duct
eye
post-anal gut


Image source: Published

Larger Image
Printer Friendly View




comment [+]
Return to previous page