XB-IMG-84562
Xenbase Image ID: 84562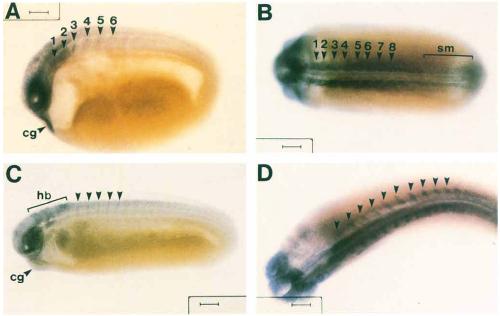 Fig. 6. Spatial expression patterns of G56 mRNA in neurula and tailbud Xenopus embryos. A: Lateral view of a stage 20 embryo. The expression of G56 mRNA is predominantly associated with the developing brain, the cement gland anlage (cg), and somites that have undergone rotation (arrowheads 1-6). B: Dorsal view of a stage 21 embryo illustrating G56 mRNA expression in somites (arrowheads 1-8), and the unsegmented somitogenic mesoderm (sm). C: Lateral view of a stage 26 embryo. G56 mRNAs are localized to segmented somites (arrowheads), and to different parts of the hindbrain (hb). Expression in the cement gland (cg) has ceased by this stage. D: Dorsal view of a stage 26 embryo at a higher magnification to illustrate expression of G56 mRNA in the differentiating somites. G56 mRNAs are present around somite nuclei, which are aligned vertically in each somite. Thus, the staining appears as a stripe (arrowheads) in each somite block. Scale bars: A,B,D = 144 pm; C = 225 pm.

Image published in: Brändli AW and Kirschner MW (1995)

Copyright © 1995. Image reproduced with permission of the Publisher, John Wiley & Sons.


Gene
Synonyms
Species
Stage(s)
Tissue
csk.S
tkg56-a, xcsk
X.laevis
Throughout NF stage 20 to NF stage 21
presomitic mesoderm
brain
pre-chordal neural plate
somite
cement gland primordium

csk.S
tkg56-a, xcsk
X.laevis
Throughout NF stage 26
brain
hindbrain
eye
somite


Image source: Published

Larger Image
Printer Friendly View




comment [+]
Return to previous page