XB-IMG-84636
Xenbase Image ID: 84636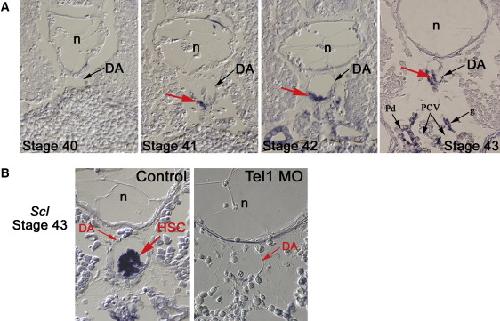 Figure 1. Tel1 Is Expressed in the Embryonic DA and Is Required for the Emergence of HSCs (A) In situ hybridization on transverse sections showing expression of Tel1 in the ventral wall of the DA and emerging HSCs (red arrows). (B) Scl staining on transverse sections shows that intra-aortic hematopoietic clusters containing HSCs do not emerge in Tel1 morphants. All sections shown are at 40× magnification, with dorsal to the top. g, ganglia; n, notochord; PCV, posterior cardinal vein; Pd, pronephric duct. Stages of development are as indicated. See also Figures S1 and S2, and Table S1.

Image published in: Ciau-Uitz A et al. (2010)

Copyright © 2010. Image reproduced on Xenbase with permission of the Publisher, Elsevier B. V.


Gene
Clone
Synonyms
Species
Stage(s)
Tissue
etv6.L
mgc146892, TEL oncogene, etv-6, tel-1, tel1
X.laevis
Sometime during NF stage 40 to NF stage 43
dorsal aorta
hematopoietic stem cell

tal1.L
SCL, tal-1, bHLHa17, tcl5, stem cell leukaemia, xscl
X.laevis
Throughout NF stage 43
hematopoietic stem cell


Image source: Published

Larger Image
Printer Friendly View




comment [+]
Return to previous page