XB-IMG-180993
Xenbase Image ID: 180993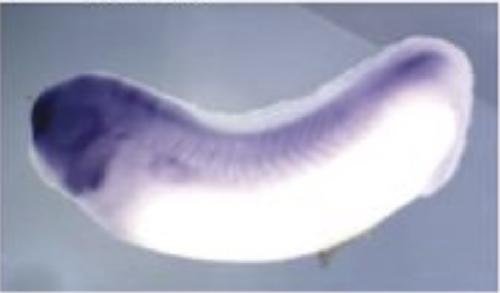 efnb1 (ephrin-B1) gene expression in Xenopus laevis embryo, assayed via in situ hybridization, NF stage 16, lateral view, anterior left, dorsal up.

Image published in: Hwang YS et al. (2013)

Copyright © 2013. Image reproduced on with permission of the Publisher, Cold Spring Harbor Laboratory Press. This is an Open Access article.


Gene
Synonyms
Species
Stage(s)
Tissue
efnb1.L
cfnd, cfns, efl3, eplg2, elk-l, lerk2, ephrinB1
X.laevis
Sometime during NF stage 26 to NF stage 27
head
intermediate mesoderm
brain
forebrain
midbrain
hindbrain
spinal cord
somite
cranial neural crest
optic vesicle
tail bud
chordoneural hinge


Image source: Published

Larger Image
Printer Friendly View




comment [+]
Return to previous page