XB-IMG-80763
Xenbase Image ID: 80763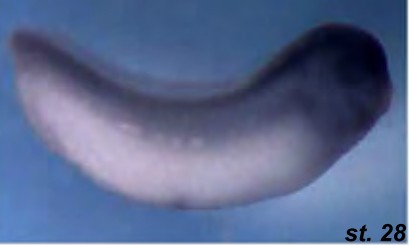 snw1 ( SNW domain containing 1 ) gene expression in Xenopus laevis embryos, NF stage 28, as assayed by in situ hybridization, lateral view, anterior right. This research was originally published in The Journal of Biological Chemistry. Wang et al enopus skip modulates Wnt/beta-catenin signaling and functions in neural crest induction.April 2, 2010; 285 (14):10890-10901. The American Society for Biochemistry and Molecular Biology. Reproduced with permission.

Image published in: Wang Y et al. (2010)

Copyright © 2010. Image reproduced with permission of the publisher and the copyright holder. This is an Open Access article distributed under the terms of the Creative Commons Attribution License.


Gene
Synonyms
Species
Stage(s)
Tissue
snw1.S
bx42, prp45, skiip, prpf45, ncoa-62, skip
X.laevis
Throughout NF stage 28
head region
dorsal


Image source: Published

Larger Image
Printer Friendly View




comment [+]
Return to previous page