XB-IMG-130034
Xenbase Image ID: 130034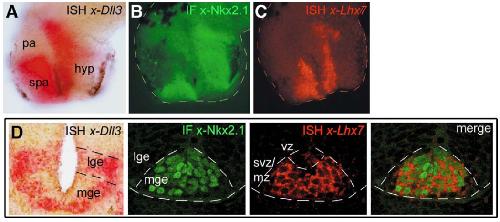 Fig. 1. Expression of x-Dll3, x-Nkx2.1, and x-Lhx7 in embryonic Xenopus forebrain. The x-Nkx2.1 protein and GABA neurotransmitter are visualized by immunofluorescence (IF), and the x-Lhx7 and x-Dll3 transcripts are detected by in situ hybridization (ISH, red) revealed by Fast Red and observed in fluorescence (x-Lhx7) or in bright field microscopy (x-Dll3). Panels A–C show lateral views of in toto dissected brains stained with the indicated gene marker at stage 35. Anterior is left, dorsal is up, and the shape of the brain is outlined by a dotted line for fluorescence pictures. (D) Optical and confocal sections through the basal telencephalon of stage 35 embryos labeled for x-Dll3 mRNA or double-labeled for x-Nkx2.1 protein and x-Lhx7 mRNA. Dotted lines delineate subdivisions and neuroepithelial layers. Hyp, hypothalamus; mge, lge, medial and lateral ganglionic eminence; pa, pallium; spa, subpallium; vz/svz/mz, ventricular, subventricular, and marginal zone.

Image published in: Bachy I and Rétaux S (2006)

Copyright © 2006. Image reproduced with permission of the Publisher, Elsevier B. V.


Gene
Synonyms
Species
Stage(s)
Tissue
lhx8.L
lhx7, x-Lhx7
X. laevis
Throughout NF stage 35 and 36
medial ganglionic eminence
diencephalon
subpallium
zona limitans intrathalamica
forebrain
brain

dlx5.L
dll3, X-dll3
X. laevis
Throughout NF stage 35 and 36
diencephalon
subpallium
prethalamus
lateral ganglionic eminence
medial ganglionic eminence
zona limitans intrathalamica

nkx2-1.L
ttf1, nkx2.1, titf1, Xnkx-2.1, xnkx2-1
X. laevis
Throughout NF stage 35 and 36
medial ganglionic eminence
hypothalamus
diencephalon


Image source: Published

Larger Image
Printer Friendly View




comment [+]
Return to previous page