XB-IMG-149521
Xenbase Image ID: 149521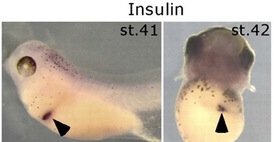 ins (insulin) gene expression in Xenopus laevis embryos, assayed via in situ hybridization, NF stage 41 lateral view, anterior left, dorsal up; and NF stage 42 ventral view, anterior up.

Image published in: Spagnoli FM and Brivanlou AH (2008)

Copyright © 2008. Image reproduced with permission of the publisher and the copyright holder. This is an Open Access article distributed under the terms of the Creative Commons Attribution License.


| Gene | Synonyms | Species | Stage(s) | Tissue |
| --- | --- | --- | --- | --- |
| ins.S | preproinsulin, insulin I, ins1, xins, insulin, ins-b, ins-a | X. laevis | Sometime during NF stage 41 to NF stage 42 | pancreas |

Image source: Published

Larger Image
Printer Friendly View




comment [+]
Return to previous page