XB-IMG-174938
Xenbase Image ID: 174938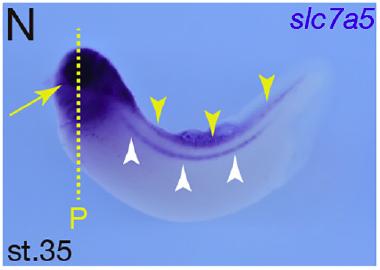 slc7a5 (solute carrier family 7 member 5) gene expression in Xenopus laevis embryo, assayed via in situ hybridization, NF stage 35, lateral view, anterior left, dorsal up.

This image is extracted from figure published in: Katada T and Sakurai H (2019)

Copyright © 2019. Image reproduced with permission of the Publisher, Elsevier B. V.


Gene
Synonyms
Species
Stage(s)
Tissue
slc7a5.S
L amino acid transporter-1, LAT-1, e16, cd98, lat1, 4f2lc, mpe16, slc7a5-b, slc7a5-a, lat1
X. laevis
Throughout NF stage 35 and 36
eye
spinal cord
notochord
lens
brain


Image source: Community submitted

Larger Image
Printer Friendly View




comment [+]
Return to previous page