XB-IMG-24620
Xenbase Image ID: 24620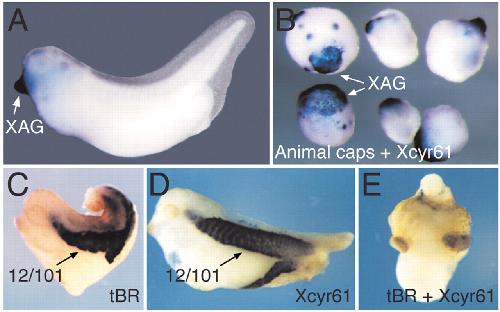 Fig. 10. Xcyr61 induces formation of cement glands in Xenopus animal caps and synergises with a truncated BMP receptor (tBR) to induce additional heads. (A) Xenopus embryo at stage 32 showing expression of the cement gland marker XAG1. (B) Induction of XAG1 in animal caps by Xcyr61. (C) Induction of a partial secondary axis by tBR (15 out of 46 cases). (D) Induction of a partial secondary axis by Xcyr61 (19 out of 90 cases). (E) Induction of an additional head by co-expression of tBR and Xcyr61 (18 out of 83 cases; an additional 18 embryos displayed partial secondary axes). Muscle in C and D is marked by monoclonal antibody 12/101.

Image published in: Latinkic BV et al. (2003)

Copyright © 2003. Image reproduced with permission of the publisher and the copyright holder. This is an Open Access article distributed under the terms of the Creative Commons Attribution License.


| Gene | Synonyms | Species | Stage(s) | Tissue |
| --- | --- | --- | --- | --- |
| ag1.L | XAG, xag1, xag-1, ag, Xag2, ag1-a, ag1-b | X. laevis | Throughout NF stage 32 | cement gland |

Image source: Published

Larger Image
Printer Friendly View




comment [+]
Return to previous page