XB-IMG-157822
Xenbase Image ID: 157822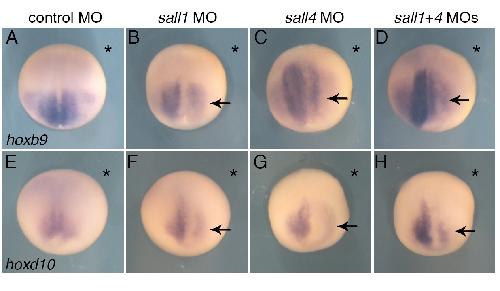 Supplementary Figure 3 – Posterior neural marker gene expression is reduced at early stages in sall morphants Splice-blocking sall1 and sall4 morpholinos induce partial loss of posterior neural marker gene expression, as assayed by whole-mount RNA in situ hybridization at stage 13 using markers hoxb9 (A-D) and hoxd10 (E-H); dorsal view, anterior up. Splice-blocking sall1 and sall4 morpholinos were injected unilaterally into the embryos shown here. Representative images are shown. Asterisks in images indicate injected side; arrows indicate partial loss of expression. Expression of hoxb9 in sall morphants at later stages is shown in Figure 2 and Supplementary Figure 2.

Image published in: Exner CRT et al. (2017)

Copyright © 2017. Image reproduced with permission of the Publisher, Elsevier B. V.


Gene
Synonyms
Species
Stage(s)
Tissue
hoxb9.L
xhoxb9, hox 2.5, XlHbox-6, XlHbox6
X.laevis
Throughout NF stage 13
posterior
neural plate

hoxd10.L
Xhoxd10, hox4, hox4d, hox4e, hox-4.4
X.laevis
Throughout NF stage 13
posterior
neural plate


Image source: Published

Larger Image
Printer Friendly View




comment [+]
Return to previous page