XB-IMG-133741
Xenbase Image ID: 133741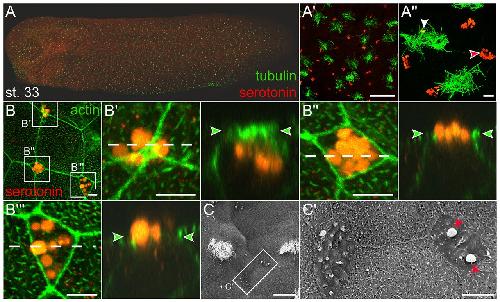 Fig. 1. Small secretory cells (SSCs) in the Xenopus tadpole epidermis. (A) Stage 33 tadpole stained for serotonin (red) and cilia (green) using anti-serotonin and anti-acetylated-α-tubulin antibodies. (A′,A′) Higher magnification reveals vesicular nature of serotonin staining. Please note a serotonin-positive vesicle attached to cilia (white arrowhead in A′). (B) Localization of serotonin-containing vesicles in SSCs. Cell boundaries marked by actin staining using phalloidin. Higher magnifications (left panels in B′-B′′) and orthogonal projection of z-stack slices (white dashed lines; right panels in B′-B′′) demonstrate serotonin-positive vesicles beneath, at, or above the apical cell membrane (B′-B′′, green arrowheads). (C) SEM of stage 32 tadpole displaying MCCs and SSCs. (C′) Higher magnification of two SSCs. Red arrowheads highlight detaching vesicles. Scale bars: 50 μm in A′; 10 μm in A′; 5 μm in B-B′′; 20 μm in C; 5 μm in C′.

Image published in: Walentek P et al. (2014)

Copyright © 2014. Image reproduced with permission of the publisher and the copyright holder. This is an Open Access article distributed under the terms of the Creative Commons Attribution License.


Gene
Synonyms
Species
Stage(s)
Tissue
tuba4b.L
alpha tubulin, alpha-tubulin, tuba4, tuba4a
X. laevis
Throughout NF stage 33 and 34
epidermis
epithelium
cilium
secretory epithelial cell


Image source: Published

Larger Image
Printer Friendly View




comment [+]
Return to previous page